The Wedding Anniversary is a temporary event that features special decorations you can use to get the garden ready for Olivia and William's celebration.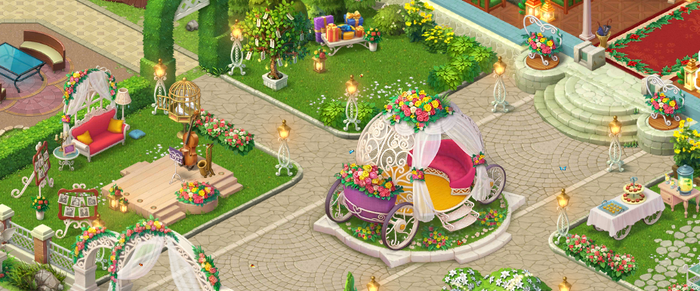 To get the decorations, you need to earn special stickers by beating levels. This event doesn't feature special levels—you just play from the level you were already at in the game.
You can use the stickers to buy decorations which you can keep even after the event ends. You can also remove them or put them back in the garden at any time.
After buying a certain number of decorations, you'll also start getting rewards. Once you've bought all the decorations, you'll get a unique wedding carriage, which you can place in the garden as a decoration, as well as a unique profile picture.
IMPORTANT NOTES:
- Everyone at Level 26 and higher can participate.
- You can also get stickers from the chests in the chest levels.
- You don't get stickers for beating levels in Furry Tale, but they might be a part of a reward.
- Once the Wedding Anniversary event is over, you won't be able to get the decorations that you didn't unlock during the event.
Decorations
Edit
Heart Flowerpots- 20
Curls Mailbox- 25
Wish tree 100
Veil Gate- 250
Wedding Dance Stage- 235
Elegant Dovecote- 85
Reception on Wheels- 165
Unity Flowebed-155
Gift Bench-115
Blossom lights-125
Cupid Statues-55
Fan paving- 180
Ornamental Border- 45
Smile Photo Zone- 205
Story Photo Stands-70
Wings Bench-35
Crystal Trolley-140
Wedding Throne-190
Tables in the Shade-190
Luxury Cake - 220
Boutonniere Lights- 40
Wedding Carriage- Collect all the Decorations
Community content is available under
CC-BY-SA
unless otherwise noted.