The Sandman Will Keep You Awake - The Loop
Play Sound
The Living Room is a central point of the Mansion and the fifth room Austin restores in Homescapes. It is based around his great grandfather, Charles Barrow.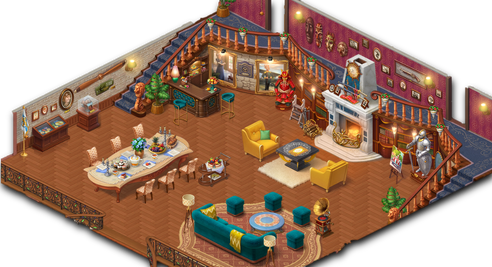 Plot
Reporter Ellen Watermain, knowing about Charles Barrow, William's grandfather and a famous pilot, enters to publish her new article. Austin recalls Charles's artifacts lost in the dark, old Living Room, hence why he chose to begin renovations there.
He begins renovation, unraveling his great-grandfather's backstory. He restores his sand Matilda's (Great-Grandmother) portraits old artifacts and medieval items, and he brings warmth to his childhood fireplace. But on Day 6, Olivia alludes about the secret of the fireplace, and Austin reveals Charles's collection! They then sort the plethora and fix up the hearthside.
Secret stashes come to be found, and missing statues come to be seen, before at long last, the adventures in the Living Room end with the publishing of Charles Barrow article and the success of his story in the neighborhood.
Tasks
These are the tasks for restoring the Living Room.
Day 1
Total stars: 30

Tasks

Stars

Open a new area
2
Find the oil lamps
2
Light the fire
1
Fix the lighting
2
Sort through the old books
2
Dust
2
Call Ellen
1
REWARD:| x1
Remove the furniture covers
2
Pick everything up
2
Throw away the old furniture
2
Clean the saxophone
2
Fix the floor (1/2)
2
REWARD:| x1
Fix the floor (2/2)
2
Clean the fireplace
2
Light the fire
2
Give an interview to the magezine
2
REWARDS:| 30m · x1
Day 2
Total stars: 30

Tasks

Stars

Start a new day
2
Call Ellen
1
Clean the portrait of great-grandpa
1
Fix the walls
2
Call Andy
1
Paper the walls
3
3
Restore great-grandpa's portrait
2
REWARD:| x1
Border the walls
2
Restore great-grandma's portrait
1
Find old pictures
2
Order frames
2
Sort out the junk
2
Hang the propeller
2
Install a helmet display
2
REWARD:| x1
Remove to old carpets
2
Place a table
3
Restore the armchairs
2
2
Lay the carpet by the fireplace
2
REWARDS:| 30m · x1
Day 3
Sl.No
Task
Stars Reqd.
Home Xp.
1
Lay a carpet
3
6xp
2
Place a new couch
3
7xp
3
Place a table by the couch
2
5xp
4
Place poufs by the couch
2
2
5xp
4xp
5
Remove the old curtains
2
4xp
6
Hide the armor
2
6xp
7
Place floor lamps
2
5xp
8
Polish the armor
2
4xp
9
Trim the tree branches
2
5xp
10
Call Katherine
1
5xp
11
Cue the tree
3
5xp
12
Fertilize the tree
3
6xp
13
Mow the lawn
2
5xp
14
Build a lath Fence
2
5xp
15
Install Lights
3
8xp
16
Install the bookcase
2
2
6xp
5xp
17
Put the books on the shelves
2
2
5xp
5xp
18
Install a ladder
2
5xp
REWARD
30m
1
46
100xp